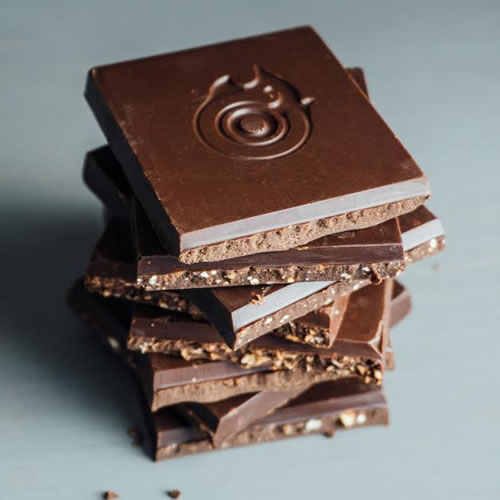 Last year, our lending team was introduced to an entrepreneur in the Providence, Rhode Island area who had a passion for chocolate. It wasn't the kind of passion that the everyday, regular person has, it was deeper — more like the feeling a wine connoisseur gets from a vintage bottle that's been perfectly stored and aged. So when the project made its way to our office, our radar for small business success was already up. You see, Paula Charleson is that entrepreneur, and boy oh boy does she love chocolate! In fact, she loves it so much she started her own chocolate company, Cocofuel.
Like many delicious things in life, the yumminess factor doesn't always correlate with a healthy factor. Chocolate can have wonderful flavor, but it also comes with a lot of guilt because most chocolate isn't made with human health or planet health in mind. Not so with Cocofuel.
Using organic honey to sweeten their cocoa powders, Cocofuel offers chocolate lovers an organic, guilt-free, and absolutely delicious alternative to the everyday chocolate you get at the store.
When Paula first came to CIC to chat about her business, we were intrigued with the concept of natural and healthy chocolate. After many conversations, spreadsheet sharing, due diligence, and of course, taste tests, we were thrilled to help Cocofuel get off the ground with an SBA microloan that was just right for Paula's goals for the company.
To learn more about (and shop!) Cocofuel, click here.