For Commercial Real Estate, Equipment, and Other Fixed Assets
By providing long-term, fixed-asset financing to small and medium-sized businesses, the SBA 504 loan program helps entrepreneurs reach their objectives with just 10% DOWN.
504 loans are made available to business owners only through a lending partnership between their bank and a Certified Development Company like Community Investment Corporation. So, it's a team effort!
Here's How It Works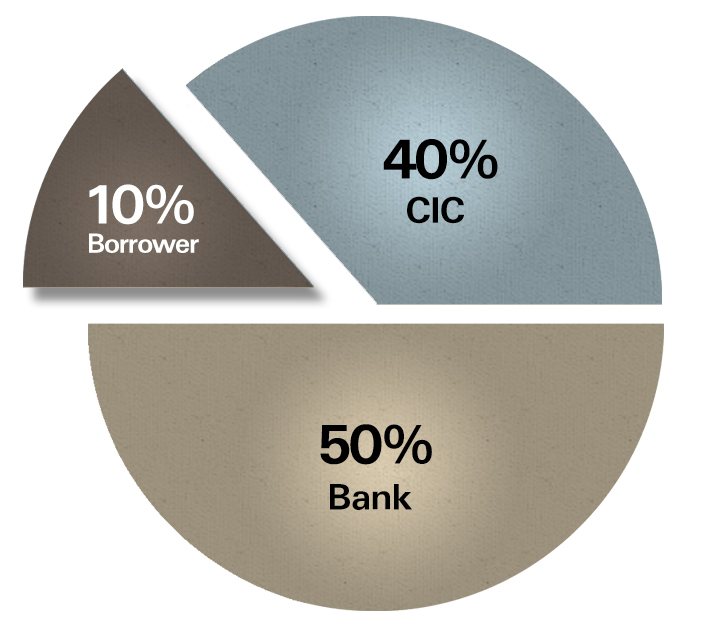 10% – Our borrowers take advantage of a low down payment, allowing them to keep more cash available to operate their businesses.
40% – CIC's portion of the loan. Current rates are at HISTORIC LOWS, fixed for the length of the loan.
50% – The bank's portion of the loan (with a first lien position).
If the business owner already has a relationship with a bank, CIC partners with that bank's commercial group on the 504 project. If the business owner is not yet connected with a bank, CIC will help find one that suits both the borrower and the project.
We put the team together to bring the financing to the table, while managing the entire process from beginning to end.
---
504 Refinance Option
You work hard, your employees work hard, so why is your equity sitting around doing nothing? Put it to work for your business!
The SBA 504 loan is a great way to refinance SBA 504 eligible debt on your building to leverage equity and grow your business. You can use money for expanding your facility, purchasing equipment, or even for working capital.
We use the same structure as with a traditional 504 loan, and you get to take advantage of low fixed rates.
An Investment in the Community
The SBA 504 loan encourages local economic development
It helps to create and retain jobs
With the LOWEST DEFAULT AND LOSS RATE of any of the SBA's financing programs, this loan program is ideal for banks and borrowers
There is, of course, a lot more to learn about this powerful loan program, so contact us to get started.