Please help yourself to these downloadable templates as you plan to start or grow you business.
Business Plan Templates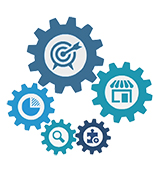 Every successful business starts with a detailed plan. These planning templates were created to guide you through the process of building a successful business model – a necessary component to getting the funding you need for your business.

Profit & Loss and Cash Flow Projection Templates
A clear understanding of how basic financial assumptions affect profitability and cash flow is the cornerstone of business modeling. The examples of business pro formas from some of the more popular types of businesses. Follow the directions on the first tab of each template to create a model for a business.
Business Planning Resources
The follow links go to websites of organizations that offer free business planning support.
If you have questions about templates above, or are unsure about where to start, please feel free to contact us.