Hamden, CT (April 27, 2022) – Community Investment Corporation (CIC) is pleased to announce the appointment of Timothy Bergstrom as Chairman of the Board.
Mr. Bergstrom is stepping into the role of chairman after serving on CIC's board for the last 12 years. He is the Regional President and head of business banking in Connecticut for Webster Bank, where he has worked for the last 25 years. In this role he is responsible for Webster's business banking operation in its core Connecticut markets.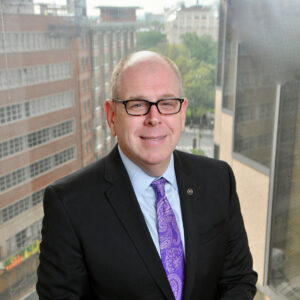 "I am pleased to accept the role of Board Chair for Community Investment Corporation. I have long admired the work of CIC in providing small business access to capital to grow and thrive. Our work in promoting economic development is really making a difference in the communities we serve."
Tim is involved in the community in various capacities. In addition to his corporate responsibilities, he is also Treasurer of the Waterbury Regional Chamber of Commerce, Vice President of the Waterbury Housing Fund, and a finance committee member of the Metro Hartford Alliance. He is a past director of the New Britain Museum of American Art, Palace Theater, American Heart Association, and the Greater New Britain Chamber of Commerce.
"We are very pleased to have Tim Bergstrom serve as our chairman," says CIC President Louis Silva. "As an existing director, and with his expansive industry knowledge and dedication to serving our respective communities, Tim has a great deal to contribute to CIC's mission of promoting economic development."
Bergstrom takes the place of previous Chairman, Mark Candido, who will remain an integral part of the Board of Directors as Vice Chairman.
About CIC
Community Investment Corporation is an economic development lender dedicated to assisting small business owners with financing through SBA and other non-traditional loan programs. Founded in 1973, and headquartered in Hamden, Connecticut, CIC serves small and medium-sized businesses in Connecticut, Rhode Island, and parts of Massachusetts.
Inquiries:
Buck Harris
(203) 776-6172 x 128
bharris@ciclending.com